S2E2 - Homesick
1 month ago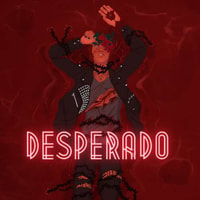 A strange rumor is spreading across America. While on the other side of the ocean, three gods awaken in the Queen's castle. Now is the time to deal with them.
Content Warnings: Blood, violence, murder, drowning, alcohol, smoking, drugs, gunshots, injuries, racism, slavery and religious trauma. Some episodes may contain driving sounds so we advise against listening while in a car.
You can find more information, including our full cast list and transcripts, at DesperadoRadio.com.
Credits:
Written and produced by Samy Souissi
Elio - Samy Souissi
Shinji - Tibet Boyer
Talia - Tami Ige
Asher - Patrick Hutcherson
La Catrina - Carolina Hoyos
Baron Samedi – AJ Bediako
Tempest - Safiyya Ingar
Caleb - Rhys Downing
Joan - Emma Blacklay-Piech
Nessa - Georgia McKenzie
Cece - Mei Konishi
King Thomas - Alex Stewart
Soundtrack: